View Your Cart

ARE YOU LOOKING FOR A VALENTINES DAY CORSET - SPRING BREAK - ST. PATTY CORSET - MUD RUN CORSET TUTU - WEDDING CORSET - SMALL - 9XLL CORSET? **** HALLOWEEN TIME IS UPON US! ORDER NOW TO ENSURE SIZE AND COLOR AVAILABILITY! PLEASE NOTE EXTENDED PROCESSING TIME AND THE SHIPPING TIME AS WE ARE IN THE HEART OF OUR BUSY SEASON!

*** Limited Time 2015 CORSET Special - CLEARANCE CORSETS STARTING AT $25 ***
FREE CORSET on any order over $75


We specialize in plus size corsets, costume corsets, formal corsets and holiday corsets. If you have any questions we are happy to help!

Here you can register with us or create a wish list!
This is a great idea for new brides having lingerie showers as well. If your a woman who loves our items, then start a wish list that you can share with that special someone.

PS

- If you choose PRIVATE then no one else except you can access your registry! Please choose PUBLIC if you are wanting to have items purchased for you. This just means that if your name is entered into the search box then your registry list can be pulled up, there is no way to blindly pull up the whole list - the searcher must have your name.

If you are concerned about that, a great suggestion is that when it asks for your name - put a nickname instead! Then give the nickname out to friends!
Use the form below to find the guest you would like to purchase a gift for. Enter the first and/or last name of the registrant, as well as the event month and date if known.
Set Up Your Own Registry | Existing Users Log In
TIPS: FOR BEST FIT take off 2 inches (from your measured natural waist) unless you are a "firm apple" shape.... If you are wanting the BEST TUMMY COVERAGE go with a Longer Corset... If you are worried about AMPLE CHEST ROOM for wearing out and k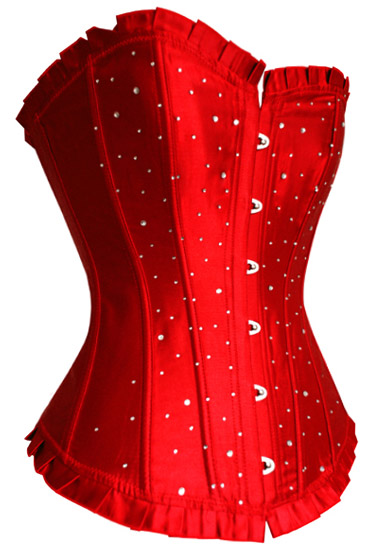 eeping the girls lifted and voluptuous go for a Longer Corset (they have sweetheart busts).... if you are WANTING THE FIRMEST HOLD FOR A REDUCED WAIST, go for a Tapestry or Steel Busk Long Line Corset... If you are WANTING A SMALL CHEST TO LOOK LARGER, go for a corset with cups.....If you are worried about LOOKING GOOD IN A TUTU you can wear tights or leggings with lace shorts or booty shorts over, then the tutu over that, so you can rock any look and feel confident!
Example of long line, steel busk, sweetheart bust, corset