We proudly offer prom corsets, goth corsets, adult tutus, cheap corsets, wholesale corsets, bridal corsets, costume corsets, corset tutu dress, corset dress, plus size corset dress, pinup girl corset, burlesque corsets, corset costumes, plus size tutu, and much more - most in sizes 2-26 dress size!
*** All Corsets Click Here *** (OR Click Below For Specific Corsets By Style OR Color, Etc.)
YESSSSS - WE HAVE CORSETS UP TO SIZE 26 DRESS SIZE!
| | | | |
| --- | --- | --- | --- |
| Blues/Greens | Black/Brown | Reds | Pinks/Purples |
| Whites/Cremes | Miscellaneous | Golden/Champagne/Yellows | |
TIPS: FOR BEST FIT take off 2 inches (from your measured natural waist) unless you are a "firm apple" shape.... If you are wanting the BEST TUMMY COVERAGE go with a Longer Corset... If you are worried about AMPLE CHEST ROOM for wearing out and k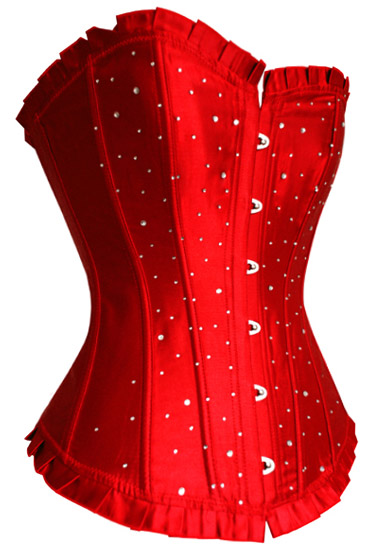 eeping the girls lifted and voluptuous go for a Longer Corset (they have sweetheart busts).... if you are WANTING THE FIRMEST HOLD FOR A REDUCED WAIST, go for a Tapestry or Steel Busk Long Line Corset... If you are WANTING A SMALL CHEST TO LOOK LARGER, go for a corset with cups.....If you are worried about LOOKING GOOD IN A TUTU you can wear tights or leggings with lace shorts or booty shorts over, then the tutu over that, so you can rock any look and feel confident!
Example of long line, steel busk, sweetheart bust, corset