View Your Cart

ARE YOU LOOKING FOR AN AMAZING SLIMMING CORSET - SPRING BREAK - ST. PATTY CORSET - MUD RUN CORSET TUTU - WEDDING CORSET - SMALL - 9XLL CORSET? **** !


FREE CORSET on any order over $75 Expires FEB 2016


We specialize in plus size corsets, costume corsets, formal corsets and holiday corsets. If you have any questions we are happy to help!

Our Unique Corset Sizing Chart
Our sizes are based on true euro corset sizes, so if the corset size is bigger then what your normal size would be, please don't be stressed, it is a unique chart and NOT normal sizing numbers

Your Unique Corset Size

(Corset Sizes are NOT the same as normal store sizes such as Hot Topic, Forever 21, Target, Sears, etc. as these are real lace up corsets).


Chosen by finding your Natural Waist Size in inches


Not the same as your pant size or dress size - please measure Take off 2"(inches) for best fit - see below for more details on choosing the size for your body type!!





X-Small - Small

22"- 26"

Medium

26"- 28"

Large

28"- 30"

1


30"- 32"

2


32"- 34"

3


34"- 36"

4


36"- 38"

5

38"- 40"

6

40"- 44"

7/8


The sizes listed above go with what your natural waist size is.

Each corset laces up the back, and has approximately 4 available extra inches.

If you add longer strings, you can get up to 7" in most cases.

Most customers want to to go with the size that is going to be 2 inches smaller then the size listed for their waist.
If you are apple shaped, and goddess sized, we suggest that for comfort you order the exact size listed for your waist measurement and do not deduct the 2 inches




44"-48" up to 50" when let out




Our corsets will fit any body shape provided your bust measurement (at the fullest part) is 4-14" greater than your waist measurement

Above is a measuring tape - You can take a piece of ribbon, string, floss, etc. and measure yourself with it, then use that against the above measure tape on the screen!

On the tutu's and skirts. These are SHORT & SEXY! For the Deluxe TuTu's they are trimmable, and longer at 18", however the short tutu's and the mini skirts are short :) Most of our customers wear these out in public, but wear booty shorts, rhumba shorts, or leggings under.

Questions? Send us an e-mail - we love helping!



WAIST

--Measure

around your natural waistline at the smallest part

.
Deduct 2" for the slimmest/tightest fit

Know Your Body

-

If your body shape is more of an apple shape

(no matter what your size, you carry your weight solidly in the middle and upper torso) then we suggest you go with the exact size listed for your waist measurement, and

do not take off the 2-3 inches.



Keep in mind for example

- t

hat a lovely lady who only wears a size 8 pant, could have a bit of an apple shaped torso where she carries her weight solidly in the middle, and so after measuring her waist, may need an XL. At the same time, another lovely lady who wears a size 16 pant, but has a pear or hourglass shaped body (weight is in the hip, booty, and thighs) and has a fairly soft and relatively smaller waist and torso area, could also wear an XL!!
The Most Important Detail

-

Is the waist. Your NATURAL waist line. This does not mean under your tummy area, or all the way over your tummy near your bustline. A natural waist line will be the smaller section of your torso above the belly button :)
TIPS: FOR BEST FIT take off 2 inches (from your measured natural waist) unless you are a "firm apple" shape.... If you are wanting the BEST TUMMY COVERAGE go with a Longer Corset... If you are worried about AMPLE CHEST ROOM for wearing out and k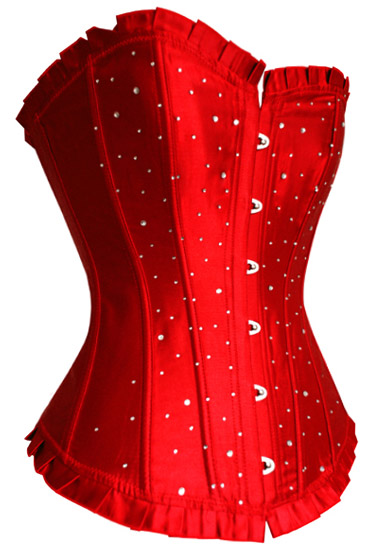 eeping the girls lifted and voluptuous go for a Longer Corset (they have sweetheart busts).... if you are WANTING THE FIRMEST HOLD FOR A REDUCED WAIST, go for a Tapestry or Steel Busk Long Line Corset... If you are WANTING A SMALL CHEST TO LOOK LARGER, go for a corset with cups.....If you are worried about LOOKING GOOD IN A TUTU you can wear tights or leggings with lace shorts or booty shorts over, then the tutu over that, so you can rock any look and feel confident!
Example of long line, steel busk, sweetheart bust, corset