keep em coming! will shop for plus size corsets at Baci & Farfalle again
Held true to the exchange policy twice as my love had some size issues. Marcia was extremely helpful and patient, even giving us solutions on how to get it right. I give five yelp stars for one of a kind customer service and the fact that they not only had our size need available, but in a tremendous amount of styles the same as the juniors styling in absolutely tasty designs!

November 11, 2009 by santas helper in Dallas, TX
happy with baci-farfalle.com experiance
Very helpful when I needed something for my wife last week. I suggest this store to other guys who are a little new at this lingerie and corset buying as it was very discreet and comfortable talking to marcia. Thank you very much.

November 03, 2009 by cowboy J in Hutto, TX
---

Stephanie Irene-- Lil Steph
Wednesday September 11, 2013
Marsha you are Great!! Very sweet and outgoing! It is so nice to find someone who is so passionate about what they do. And love doing it everyday!

I am glad to be a customer "a girl can never have too much lingerie" and it is also great working with you now to promote and throw trunk shows!
xoxo
Steph

---

Alexia Jenner
Wednesday September 11, 2013
I have never had so much help for such an affordable item. Your girls are fantastic and will definitely purchase again. Howesaboutabeer

---

Anonymas
Wednesday September 11, 2013
Kelly, you made me feel so comfortable in purchasing and I sincerely thank you for your discreet help and non judgmental and kind persona. Best Wishes and I look forward to another purchase soon.
A TG friend.

---

Gabby
Wednesday September 11, 2013
To start off, I'd like to say that their customer service is IMMACULATE. I had a few problems when first trying to order, so I had sent an email complaining, & received a phone call the very next day with an apology for it & and explanation. Then, the corset I had ordered was needed for Wednesday & was to be shipped out on Monday. I had gotten another personal phone call telling me that they did not have my size in that particular corset, but sent me a link to a similar one for the same price. I had agreed, & when I received my order in the mail I had gotten my tutu, corset, & 4 free accessories as that was the special at the time, & to my surprise, they threw in 3 more free accessories that I hadn't even ordered to make up for not having my corset in stock. They were extremely helpful, & the customer service was great. My corset is beautiful, & fits me PERFECT. But the only downside I have to this, is the tutu. They tell you its short length may show off your "goods", but they don't tell you that it's see-through. It's of a rather poor quality, & I wouldn't recommend spending the extra cash on it. As for everything else, they get 5 stars.

---

Kayleena
Wednesday September 11, 2013
I bought the Vintage Inspired Royal Asian corset or the blue and gold corset to put with a Halloween costume I've made. I ordered this on Oct 16th or 17th can't remember and it arrived today Oct 24th. Which is nice because I mentioned in the comments when ordering that I needed this by the 24th. I also paid extra to have it shipped within 5-7 days.

It fits perfectly. I followed the size chart the site provided - even going two inches smaller than my waste actually is, so I was extremely happy to have it fit perfectly. It's a bit hard to adjust the corset by myself, but I'm stubborn and didn't want to wait for anyone to get home to mess with it with me.
The only thing I don't like about it is that the lace on the top comes off far enough that it hangs over the corset instead of sticking up. Other than that, this corset is absolutely perfect and I will recommend this site to anyone looking to buy corsets online.

The site is VERY correct when it says that these are not Hot Topic corsets. I have one from Hot Topic and the one from this site is MUCH different and better.

---

Veronica
Thursday December 20, 2012
I ordered 2 corset dresses for my daughters sweet 16 and we loved them. The fit was a little off and one of the tutus didn't fit at all but we were able to tweek it to make it work and they turned out great. The communication was great and shipping was on time thanks for helping to make her birthday a success with the most beautiful outfits!

---

Shelton
Wednesday May 4, 2011
It was very comfortable and had great hold, I really liked the quality, everything was perfect, thank you very much, soon makes another request, I sent a style I want and if you do have it I would like to order it in different sizes.

---

phatgirlzrule.com
Wednesday May 4, 2011
Hello I got the package today, thank you very much 4 great items and fast shipping. We will be ordering more items for Phat Girlz soon.

---

Lindy Luv (Plus Size Model)
Saturday April 16, 2011
Hugs and and kisses to a fabulous team of gals who not only carried the size I needed for my show and photo shoots, but at wonderful prices and Jenny customized the items for me to a perfection. Lots of Luv from Lindy Luv XOXOX

---

Richard Beverage
Thursday March 3, 2011
I want to thank you for all your
help with my order. I did recive
it today again thank you.
Richard

---

S.G.
Thursday November 4, 2010
I received my order yesterday. I am delighted with the goods and think that the corsets are lovely. I am very happy and will be purchasing from you guys again. Your customer service has been excellent and I thank you very much.

---

Molly Johnson
Saturday September 25, 2010
LOVED working with Marsha, she is so speedy and professional! The corsets are the best quality you can buy and they hold up well for my Antique Portrait Studio business.
Check out some of the samples!
www.tootins.com

---

Luna Lina
Saturday May 8, 2010
I needed a plus size corset fast, as in yesterday! The owner did not have my size in stock for any of the ones that would go with my plus size burlesque outfit. I ended up chatting (ok completly complaining) on the phone with her and was venting my frustration about how hard it is to ever find an in stock item in my size on short notice. After being a doll about listening to me she got my information and told me she would call me back, she wanted to check something. Sure enouph she rang back and actually gave me the information to someone elses store in my area that was online that she had ALREADY CALLED to ensure they could ship it that day, and proceeded to give me all the info!!! I would have NEVER found this on my own, I had been looking and looking!

I give a 10 star rating because this is something above and beyond what I would have expected. I got the corset in time, and even though I now know there is another company that provides the plus size corsets, I am ordering all of my corsets and costumes from Baci & Farfalle!

Luna Lina

---

Misti
Thursday April 22, 2010
Reviews for Baci & Farfalle:
Misti S.
Ratings_icons Baci-Farfalle.com corsets in 4 days & made my anniversary!

Misti S. 5 Baci & Farfalle

http://www.baci-farfalle.com came through in amazing time for me! I can not stress enouph how absolutly thankful I am too Marcia for getting me my items in just a 4 days and right in time for my anniverery. My husband who is a huge fan of the pinup era was floored by what I picked out and I was floored by the prices and one on one customer service including 3 phone calls on a Sunday afternoon that she took time to answer from me :) Five stars all the way *****

---

jamie
Wednesday April 21, 2010
I have looked and looked for the perfect corset and couldn't find one until i found you , i can guys! i want to look beautiful on my wedding day in a few weeks and because of you i can now do that! i can't wait to get it, thank you so very much. Keep up the great work. i WILL be ordering with you guys again soon! your work is amazing and beautiful :

---

Chenille Ann P.
Tuesday April 6, 2010
After being worried about shipping times I received two of my items within a week and a few days and the the other two just a week later! I am thrilled with them and want to tell the person who chatted with me online literally 7 times in one day answering my questions how much I appreciate you and your company. I will be passing on your site 8)

---

S. Ivey
Tuesday March 9, 2010
Absolutely the BEST customer service you could ever ask for! I initially had trouble sizing and Marsha was BEYOND helpful and got me all the right sizes SUPER fast for a special photo shoot I was doing. Not only is the customer service exceptional but the corsets are STUNNING!!! Couldn't be happier!!!

---

Pure Romance Diva
Thursday February 18, 2010
I have recommended you too all of the gals in pure romance on my team and at the GNI! The extra stuff was amazing and thank you so very much for all the sizing help.

---

jazzhands04
Sunday February 14, 2010
Custom corset was amazing thank you so much.

---

Heather L.
Wednesday February 10, 2010
Hi, I got it and it fits amazing. I appreciate the extra stockings and am looking forward to valentines day with my corset 8P

---

Ella
Friday February 5, 2010
Fast, awesome corset, quick e-mails. As a third time customer (frequent browser hehe) Marsha still went through hoops to get my item to me in time!!
I HIGHLY recommend them

** Ella **

---

Gerald
Saturday January 16, 2010
Very well done and good service. Much appreciated and will send pictures of the models as soon as I have edited. 2 thumbs up and many thanks.

---

HoOtErS gIrLs
Saturday December 5, 2009
We are swearing to everyone that your outfits are why we got the extra tips lol. please please keep your prices affordable as you have at least 5 long time customers over here !*!*!

---

Christine
Wednesday November 5, 2008
Fast e-bay service, accurate listing, and totally loved the "goodies" you put in there hehe :P

---

Shane
Friday September 12, 2008
One little problem with the sizing and not only did Marsha let us trade it but she also overnighted the new one to make sure we had it in time for the shoot. 4star service for sure. thank you again!

---

Cindy S.
Monday August 25, 2008
It fit!!! When are you doing your next buy one get one day? I have passed your info to all the girls and they can't wait! xoxo

---

Jolene R
Wednesday June 4, 2008
i am so happy you are carrying plus size's now, thank you the corset is lovely!




---

BBW Lover
Wednesday June 4, 2008
You are the BEST!




---

Kevin
Tuesday June 3, 2008
Hi Marsha,
She loved it and thought I ordered the packaging special! Thank You 8)

---

Kenneth Small
Wednesday May 14, 2008
thanx for the help!

---
TIPS: FOR BEST FIT take off 2 inches (from your measured natural waist) unless you are a "firm apple" shape.... If you are wanting the BEST TUMMY COVERAGE go with a Longer Corset... If you are worried about AMPLE CHEST ROOM for wearing out and k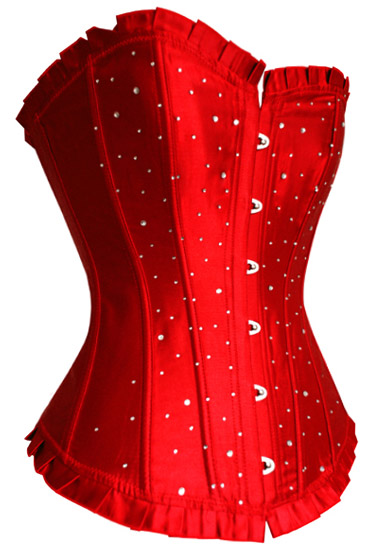 eeping the girls lifted and voluptuous go for a Longer Corset (they have sweetheart busts).... if you are WANTING THE FIRMEST HOLD FOR A REDUCED WAIST, go for a Tapestry or Steel Busk Long Line Corset... If you are WANTING A SMALL CHEST TO LOOK LARGER, go for a corset with cups.....If you are worried about LOOKING GOOD IN A TUTU you can wear tights or leggings with lace shorts or booty shorts over, then the tutu over that, so you can rock any look and feel confident!
Example of long line, steel busk, sweetheart bust, corset