Our customers love our corsets and corset costumes, but we want to make sure we have given you all the information you need
before purchasing one so you feel confident in your corset purchase! As always, if you have ANY questions - please
e-mail us
, we love to help!
Have you already received your item and need size, fit, and tweaking help? Do you want to know how to trim your tutu, extend the size, put it on, or other info? Want to secure the corset bust area or give yourself an extra cup size? Check Out This Link - - > http://baci-farfalle.com/pages/corsetwearing.htm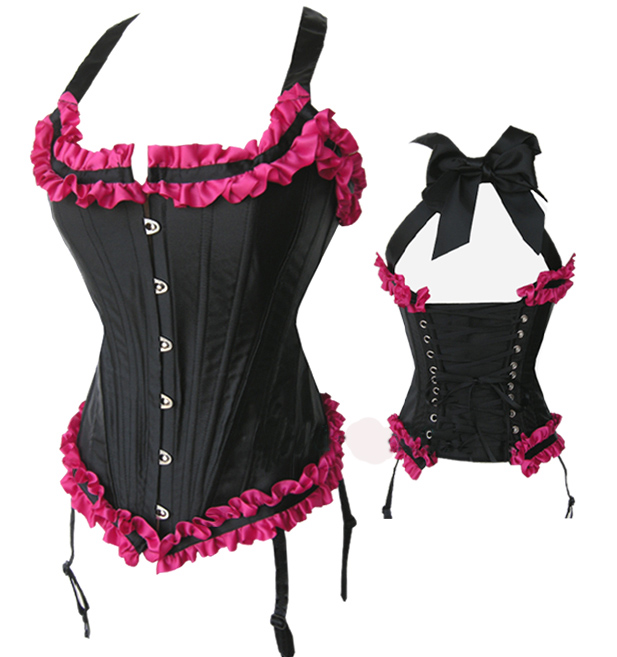 What size do I choose? - Here is the SIZE CHART link for easy reference. Our sizes are based on true euro corset sizing, not pant size, so please make sure you do check out the size chart, and don't be alarmed if the corset size you need is completely different then normal mall or superstore clothing sizes.
How would you classify your corsets? - Most of our corsets are considered "sturdy party corsets" or "sturdy fashion corsets". This means that though they are most definitely a huge step up from your normal mall corset, they are meant less for heavy waist training and more for making your shape curvy and luscious with fashionable, gorgeous designs! The majority of our corsets do have steel busks and some have steel spiral boning, but this is not to be confused with whale boning or double stitched, heavy steel boned, custom fit corsets! These such corsets run in the range of $200+. If that is what you are looking for, we do have a custom corset service, but the corsets you see on the site are not custom waist trainers, custom fitted, or in the $200+ range :)
What kind of boning do you use? - Our corsets all have great boning - but again the boning is not going to be whale or one inch thick unmovable steel boning, it will be more flexible. Some have strong sturdy PVC boning, steel hinged boning, spiral steel bones or a steel busk with sturdy hinged sides and/or hard PVC boning to give you a nice tight fit. You can see an example of these items in the below pictures. Please understand that our corsets (unless distinctively specified in the description) are not being sold as "all steel corsets" or "heavy waist training" corsets.
What kind of lacing do you use and is it exchangeable? - Our corsets are all laced using strong satin lacing. This is removable and can be replaced with cord lacing. Cord or any other longer lacing can give you extra inches and stronger hold as well. You can get cord, shoe string (basically the same as cord lacing) or even something unique like chain cord, at any Hobby Lobby, Michael's, or other craft store, including Walmart or Target in many cases!
How many inches will your corsets cinch me in? - Our corsets provide 3-4 inch cinching in most cases. Depending on the size needed we have some customers who are able to use their corsets over and over with up to a 5" reduction! We proudly carry corsets for all sizes of beautiful woman, but due to the nature of the item, the larger the corset needed, the less cinching may be possible. For example a size large corset may give the wearer up to a 5 inch reduction, and a size 5XL corset may only give a 3 inch reduction. It depends on your comfort level with how tight the item is.
What corset has the best cinching power? - Most of the longer line corsets and brocade corsets, have the strongest hold. See some example pictures below for examples of good hold versus even better hold. For our wonderful plus size corset wearers, or those blessed with what they feel is a larger then usual bust for their frame, I usually suggest going with a long line brocade corset with a sweetheart bust shape for maximum holding power if wearing out over the shorter satin and lace corsets with cups.
What should I know about your corset skirt combos and corset tutu sets? How long are your adult tutu's and plus size tutu's? - Corset tutu's and corset skirts are always separate from the corset (they are two piece sets). Our corset skirts and tutu's are going to be either 9"-11" or 16"-18". This is important to know as depending on your body shape/height the shorter tutu's may provide just a few inches coverage over your "goodies". Many of our customers wear ruffled boy shorts and peavy tights underneath - it looks wonderful, will hold you in, and is still very sexy! For 2012 we are seeing that the trend is purchasing the tutu corset combo's and wearing capri length leggings under with heels - very in style right now and gives you a lot of control, as well as lets you choose the level of modesty. The skirt inches are from the top of the skirt to the bottom.. so if the adult tutu that comes with your corset is 9-11 inches, then that will be 9-11 inches down starting from your hip/waist.
Here are some sizing tips and suggestions. We are always just an e-mail away if you need help!
Know Your Body - If your body shape is more of an apple shape (no matter what your size, you carry your weight solidly in the middle and upper torso) then you may want to go with the size that falls right at your measurements. If you are more of a willow, hourglass, or pear shape - go with the size 2 inches smaller then your exact measurement for the tightest cinching power. Keep in mind for example - that a lovely lady who only wears a size 8 pant, could have a bit of an apple shaped torso where she carries her weight solidly in the middle, and so after measuring her waist, may need an XL. At the same time, another lovely lady who wears a size 14 pant, but has a pear shaped body (weight is in the hip, booty, and thighs) and has a comparably smaller waist and torso area, could also wear an XL corset.
The Most Important Detail - Is the waist. Your NATURAL waist line. This does not mean under your tummy area, or all the way over your tummy near your bust line. A natural waist line will be the smaller section of your torso at or slightly above the belly button and is NOT the same as dress or pant size.
For Our Very Voluptuously Blessed Customers - We suggest going with a long line brocade corset with a sweetheart bust shape for maximum chest room and uplift, as well as the best holding power if wearing the plus size corset as outerwear or as a corset top.
Here is the SIZE CHART link for easy reference after reading the above helpful info!
Here Is An Online Tape Measure! TIP: Take a piece of ribbon, string, floss, etc. and measure yourself with it, then use that against the measuring tape on the screen!
Have you already received your item and need size, fit, and tweaking help? Do you want to know how to trim your tutu, extend the size, put it on, or other info? Want to secure the corset bust area or give yourself an extra cup size? Check Out This Link - - > http://baci-farfalle.com/pages/corsetwearing.htm
Example of Spiral Steel Boning Example Of Steel Busk Example Of PVC (white) & Flexible Steel Boning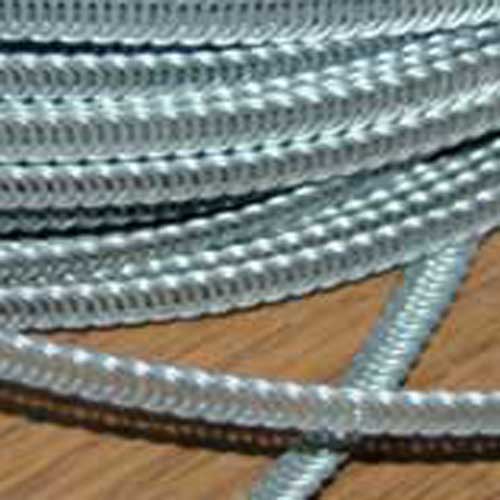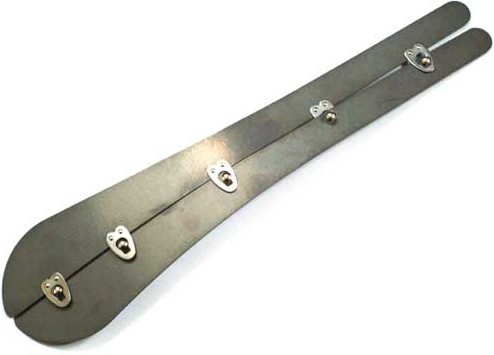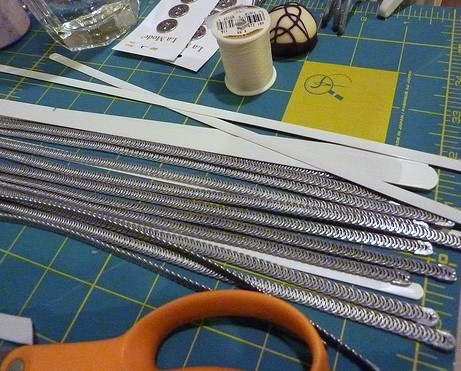 TIPS: FOR BEST FIT take off 2 inches (from your measured natural waist) unless you are a "firm apple" shape.... If you are wanting the BEST TUMMY COVERAGE go with a Longer Corset... If you are worried about AMPLE CHEST ROOM for wearing out and k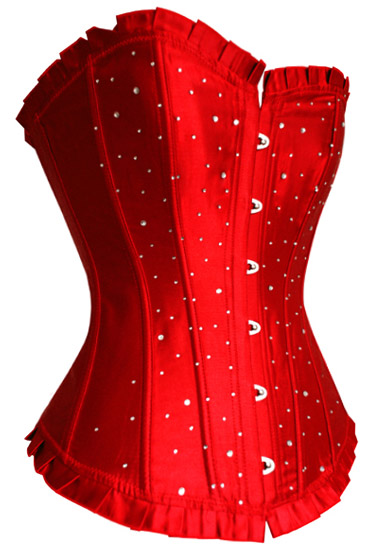 eeping the girls lifted and voluptuous go for a Longer Corset (they have sweetheart busts).... if you are WANTING THE FIRMEST HOLD FOR A REDUCED WAIST, go for a Tapestry or Steel Busk Long Line Corset... If you are WANTING A SMALL CHEST TO LOOK LARGER, go for a corset with cups.....If you are worried about LOOKING GOOD IN A TUTU you can wear tights or leggings with lace shorts or booty shorts over, then the tutu over that, so you can rock any look and feel confident!
Example of long line, steel busk, sweetheart bust, corset