View Your Cart

ARE YOU LOOKING FOR A VALENTINES DAY CORSET - SPRING BREAK - ST. PATTY CORSET - MUD RUN CORSET TUTU - WEDDING CORSET - SMALL - 9XLL CORSET? **** PLEASE NOTE EXTENDED PROCESSING TIME AND THE SHIPPING TIME AS WE ARE IN THE HEART OF OUR BUSY SEASON!


FREE CORSET on any order over $75 Expires FEB 2016


We specialize in plus size corsets, costume corsets, formal corsets and holiday corsets. If you have any questions we are happy to help!

Thank You So Much For Your Order
Please Read The Following Important Post Order Information

Read this before trying on/getting your new corset and or skirt

-

Corsets are in a league of their own, so its not easy to just take it out of the bag and put it on - so we have a great tutorial that explains everything! How to put on your new corset/make it roomier or tighter/wear and put on your tutu/create more cleavage/extend the size/add straps/ & a lot more. We also provide tips on putting on the tutu's (these are meant to go over the head, NOT feet first AND need need to be steamed or washed as they look small and flat out of the bag).

http://baci-farfalle.com/pages/corsetwearing.htm
Size Ordered VS Size Sent

-

Some of our items run smaller or larger then the size chart, so the item sent sent may reflect that, please don't be surprised if after reviewing the waist size, and knowing if an item runs larger or smaller then the size chart, the item you receive is a size up or down from your original order - we ask for your waist size as our size chart is unique, as are true corsets, so we want to save you stress by doing our best to get you the best fit :)



Return slip

- If your order does not fit, or maybe it just does not have the style that fits you best,

please let us know within 3 DAYS of receiving your item, by sending us an

e-mail with your Order Id # in the subject line,

and then return with the following

RETURN SLIP We happily do exchanges and if you need help with finding a different style, please let us know. That is what we are here for! We are here to ensure you have a great shopping experience!

Please note the return processing address and follow instructions as we have items sent from both our main warehouse, our sister shoppe in Florida & NY, and for back order special order items, our designing manufacture



Thank you and enjoy your lovely new purchase!
TIPS: FOR BEST FIT take off 2 inches (from your measured natural waist) unless you are a "firm apple" shape.... If you are wanting the BEST TUMMY COVERAGE go with a Longer Corset... If you are worried about AMPLE CHEST ROOM for wearing out and k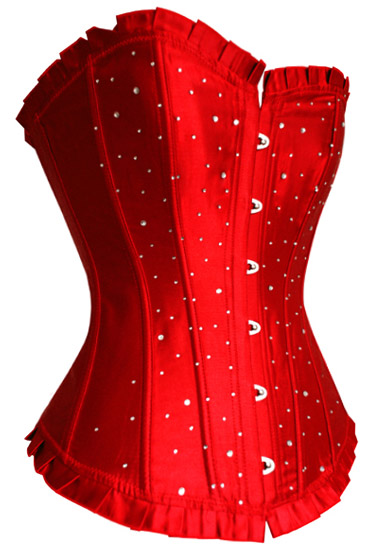 eeping the girls lifted and voluptuous go for a Longer Corset (they have sweetheart busts).... if you are WANTING THE FIRMEST HOLD FOR A REDUCED WAIST, go for a Tapestry or Steel Busk Long Line Corset... If you are WANTING A SMALL CHEST TO LOOK LARGER, go for a corset with cups.....If you are worried about LOOKING GOOD IN A TUTU you can wear tights or leggings with lace shorts or booty shorts over, then the tutu over that, so you can rock any look and feel confident!
Example of long line, steel busk, sweetheart bust, corset